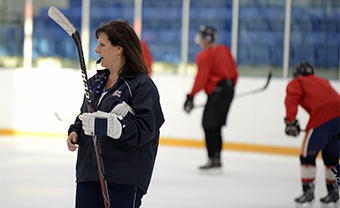 Mary Says
The most fundamental skill in
hockey is skating.
You have to be able to move very fast with or without the puck.
Backward skating, forward skating, when you shoot, pass and turn.
In the skating game you need balance, agility, speed and technique.
It's the fastest game on ice.
Having spent four years working in Europe, I was allowed the opportunity to learn the correct skating format and technique to develop our young skaters. Players tend to concentrate more on skills, rather than their skating. The uneven balance of skills will eventually catch up with them, and this will limit their playing days at high level hockey. ...