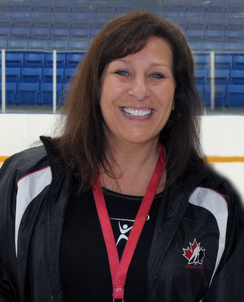 Power Skating
With Mary Giacalone
My beliefs and philosophy;
The most fundamental skill in hockey is skating.
You have to be able to move very fast with or without the puck.
Backward skating, forward skating, when you shoot, pass and turn.
In the skating game you need balance, agility, speed and technique.
It's the fastest game on ice.
The Power Skating session we work on technique, weight distribution, proper upper and lower body movements, edge work, backward & forward stride development, pivots, turns, crossovers acceleration and resistance training. I believe in mastering each skill, and then applying it to your game of hockey. If you learn how to skate properly, you must then learn to skate with speed, power, with a puck, and then learn when to use all of that, in a game situation
Having spent four years working in Europe, I was allowed the opportunity to learn the correct skating format and technique to develop our young skaters. Players tend to concentrate more on skills, rather than their skating. The uneven balance of skills will eventually catch up with them, and this will limit their playing days at high level hockey.
My classes are no nonsense; you are given a tough technical/conditioning workout. But most importantly, I make the skater work on skating outside his or her comfort zone, so that new and correct techniques can be applied.
A great skater is not someone who has taken a few lessons. Great skaters work on their technique for many years, and develop this skill especially in the off season. Playing shinny or hockey games all summer long in my opinion, is not a good opportunity to develop as a player. Too many bad habits never get broken; as a matter of fact they get reinforced. The off season is the time to work on your strength, conditioning, (off-ice conditioning) and skating.
The summer is a great time as well, to play other sports such as soccer or lacrosse, and are given the opportunities to have fun, and enjoy the break from our wonderful game.
Scary Skate is committed to being the best.
To confirm our commitment, we have created the following Vision and Mission Statements to abide by.
---
Scary Skate Vision Statement
The scary skate is a high energy, professional, organized power skating program, with well educated, highly motivating, and knowledgeable instructors. Our quality instructors make a difference. Our exceptional programs offers the skaters, the most current skating techniques. We at the scary skate are not only passionate, but are committed to making our programs and players.
*SKATING CENTRIC*
---
Scary Skate Mission Statement
SCARY SKATE INSTRUCTORS, WILL PROVIDE AND IMPLEMENT OUR EXCEPTIONAL PROGRAMS WITH THE MOST CURRENT TECHNICAL TRAINING, TO DEVELOP AND ENHANCE THE WAY YOU SKATE.
WE DO THIS IN A HIGHLY MOTIVATING MANNER, WITH PASSION AND COMMITMENT.